| | |
| --- | --- |
| | CESAR con los colegios de Santa Marta, Colombia |
EVENTO DE COOPERACIÓN INTERNACIONAL
"LA AGENCIA ESPACIAL COMO INSTRUMENTO EDUCATIVO".
EDUCACIÓN Y SENSIBILIZACIÓN PARA EL DESARROLLO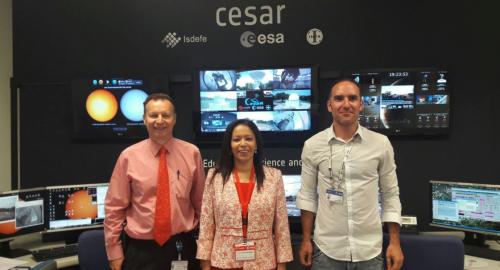 Michel Breifelner, Claudia Mosquera and Miguel Perez Ayucar in the CESAR control room
El pasado 19 de abril de 2017, La Agencia Espacial Europea – ESA, en Villanueva de la Cañada, en Madrid a través de Michel Gerhard Breitfellner Astrofísico, en la Universidad de Viena, Austria, Ingeniero de Operaciones Científicas para Venus Express (2010-2015) y Mars Express (2015-hoy) y Miguel Pérez Ayúcar, Ingeniero de Telecomunicación, graduado en Ciencias Aplicadas, Estudios Espaciales en la Universidad de Australia Meridional, Adelaide, Gerente de Segmentos Terrestres Científicos de Venus Express (2011-2013) y Rosetta Science Operations y Líder de Grupo de Planificación (2013-hoy), acogieron en La agencia Espacial Europea ESA a la institución educativa European School de Santa Marta D.T.C.H. – Colombia a través de su Rectora Dª. Claudia Beatriz Mosquera Guzmán, Matemática y Física, quien gestionó ante la ESA para poder organizar en Cooperación por las partes, gran evento educativo, de carácter internacional, en materia de Ciencia y Astronomía Espacial, en Pro de la Niñez y Juventud colombiana, el cual fue denominado: "La Agencia Espacial como instrumento educativo".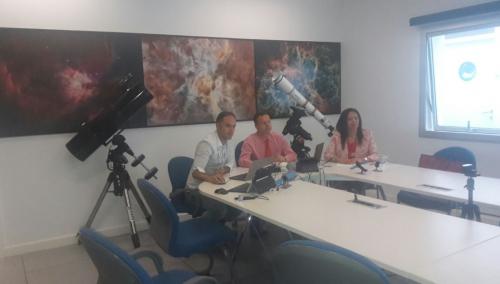 Michel Breifelner, Claudia Mosquera and Miguel Perez Ayucar during videoconference with Santa Marta schools
El objetivo de la ejecución de este evento internacional fue difundir, promover y motivar el interés en la investigación espacial, conocer los diversos experimentos realizados en las misiones espaciales, informar a los estudiantes, directivos docentes, docentes y demás profesionales de la educación sobre la importancia de los proyectos internacionales de carácter educativo sobre Ciencia y Astronomía, de igual manera hacerles saber cómo la ciencia espacial contribuye a la vida cotidiana.
El evento tuvo el apoyo local por parte de la Secretaria de Educación Distrital D.T.C.H. a través de su Secretario de Educación, Dr. William Renán Rodríguez. La Secretaria de Educación traslado la invitación a veinte (20) colegios de la ciudad, quienes mostrando gran interés por tan importante oportunidad para la Comunidad educativa Samaria.
Por otra parte, se unió a este importante evento en calidad de colaborador local la Universidad Sergio Arboleda – Sede Santa Marta D.T.C.H. – Colombia, acogiendo en tan prestigiosa universidad- Sede Centro en Auditorio Rodrigo Noguera Laborde el evento. Con palabras de Bienvenida en representación de la universidad nos recibió el Dr. Herman Palacios, Decano de la Escuela Internacional de Administración y Marketing.
En el Auditorio Rodrigo Noguera Laborde se concentraron directivas docentes, docentes, estudiantes en edad escolar de 5 años a 16 años, destacando igualmente el interés y participación de algunos padres de familia, todos alrededor de la temática de Ciencia y Astronomía tratada
Course for Astrotourism Guides, 31 May 2022
CESAR team gave a keynote talk during the Astrotourism Guides Eclipses Course organized by the Starlight Foundation, on 31 May 2022. The talk was about CESAR events related to solar observations for Education and Public engagement. See more

Tour for ESAC 2022 trainees
CESAR team gave a visit tour to the onsite 2022 ESAC trainees. The main ESAC rooms and missions were presented to these early career space enthusiasts. See more

CESAR Teacher workshops, in Spanish, organized for the school year (2021-2022)
Teacher workshops designed by the CESAR Team, in collaboration with CTIF (Madrid), CFIRE (Valencia), CEUCD (Canarias), ESA, CAB, IAC, IAA, Ciudad de las Artes y las Ciencias (Valencia)... See more

CHEOPS launch
We experienced CHEOPS live launch on 18 December 2019, with around 100 enthusiastic students.

See more

CESAR aired live on TVE-24H
On 23 May 2019, the TVE-24H Spanish channel (La Barra - Astro24h) aired live an interview with the CESAR coordinator, MIchel Breitfellner. The CESAR initiative was presented, as part of ESA Education programs. See more