| | |
| --- | --- |
| | 4th teacher workshop in Spanish: The Unknown Cosmos |
The CESAR Team, together with CTIF (Madrid), CEFIRE (Valencia), CEUCD (Canarias) and the Ministry of Education of Argentina, offers to the Spanish and Argentinian teachers a new teacher workshop, in Spanish, to explain the current limits in the knowledge of space and the open questions that future generations of ESA space missions and ground base telescopes will try to reveal in the coming decades.
You can access to the teacher's program for the Unknown Cosmos here.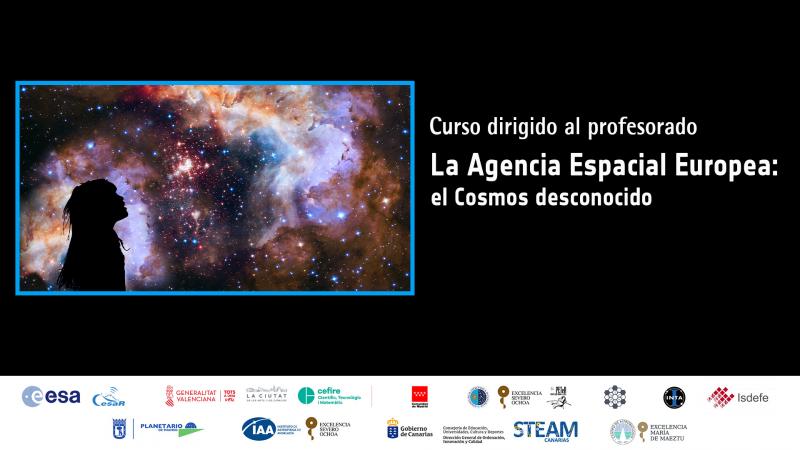 The speakers of this teacher program are profesionals working at state-of-the-art ESA missions (JWST, Athena, Euclid), at el Centro de Astrobiología (Madrid), el Instituto de Astrofísica de Canarias (The Canary Island), el Instituto de Astrofísica de Andalucía (Granada) y la Ciudad de las Ciencias y las Artes de Valencia (Valencia), among others.
Hands-on activities for the classroom are planned to be presented by ESA Education, the IAC educational project with robotic telescopes (PETeR) and the CESAR Team, offered to schools as part of their Space Science Experiences
If you are teachers from Madrid, please get in touch with your teacher center for your registration in this teacher workshop, as they will provide you with an official recognition of the hours dedicated. These are CTIF for Madrid, CFIRE for Valencia and CEUCD for the Canary Islands, ...
Studying the Sun to travel to the stars (Teacher workshop)
The new CESAR Teacher Workshop,under the name Studying the Sun to travel to the stars, is planned to be done online between the days (15- 18)th of November. This workshops, are as usual the result of a great collaboration with CTIF (Madrid), CEFIRE CTEM y Ciudad de las Artes y las Ciencias de Valencia (Valencia), el Instituto de Astrofísica de Canarias(Canarias) and el Instituto de Astrofísica de Andalucía (Granada) See more

ESAGTTP2021 - Space Careers
130 teachers from 55 countries attended the ESAGTTP2021, organized by the second year online, under the coordination of ESA/CESAR and NUCLIO. See more

Teachers workshop at ESAC coordinated by CTIF & CESAR Team
On the week of the 18th of September 2017, it was held at ESAC a new workshop for teachers coordinated by CTIF and the CESAR Team. The topic this time was about how to plan and execute observations with telescopes and how to extract scientific results from them. See more