Jorge's love for space and planets comes from his grandfather, who was a pilot. He thought that he and his family were going to visit his great-aunt. When Jorge found himself in the European Space Astronomy Centre of the European Space Agency (ESA) surrounded by astronomy engineers, plenty of satellites and antennas, he was very happy to listen to the explanations about all the advances in the knowledge of planets and the latest satellites and sounding lines lunches.

During his visit Jorge was able to speak to Pedro Duque, the only Spanish astronaut who has travelled to space. He told him about his interest in going into space and the possibilities that exist nowadays to do so.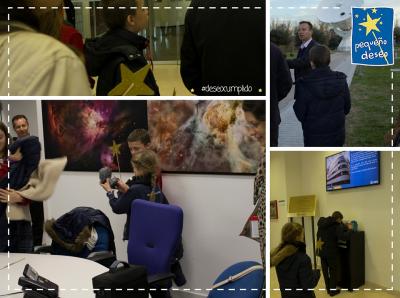 The foundation
Pequeño deseo foundation has the mission to make reality the wishes of children with chronic or bad condition illnesses with the aim of helping them to carry on better their diseases.
"SOMETIMES TO MAKE A CHILD WISH REAL IS HIS BETTER MEDICINE"