Expand your knowledge of the Universe from your school
The CESAR team provides free online interactive tools and material to introduce students in the field of astronomy, science and technology by doing what we call, a Science Case. In some of the Science Cases, students will be required to use the CESAR observatories, which means, they will have to follow all scientific method for the very beginning. The scientific cases are not only to make science approachable for young people but also to help them develop their critical thinking.
Choose your level
The fundamental knowledge of the Universe at one-click distance! Without formulas or mathematics, simple as it is.

Credits: Nautilus

Basic physics crafting the Cosmos! Next step for expanding your knowledge of our Universe with some basic formulas.

Credits: ESA

Go a step fowrard getting into real Science. Undrestand how the Universe evolve as it becomes more complex. Credits: ESA
Choose the correct Science Case
Depending on student's age and their knowledge of mathematics and physics, the Science Cases are divided into three difficuly levels: high, medium and low. Teachers can then choose the best Science Cases for their students. Not all the Science Cases are developed for all levels, but most of them are. Please read the complete guide of how to perform a Science Case with your students available here.
Prepare for a Science Case
Most of the Science Cases already have all the documentation to be able to complete them in 30-60 minutes. Some others will also require to
contact
CESAR team to use the obvervatories for taking necessary images of the Sun, Solar Sistem planets, and many more.
For each Science Case, we provide:
A teacher's guide: a guide where teachers find the key information they must provide to their students in order to perform their Science Case
A student's guide: a manual for students working on their Science Case
Calculation guide: a sheet with the formulas required by the students to perform their calculations
Calculations and results: a sheet where the students will write their calculations
Student quiz: a set of questions that should be answered by the students to check whether the concepts studied have been assimilated
Additional information: Links to interesting pages or videos related to the topic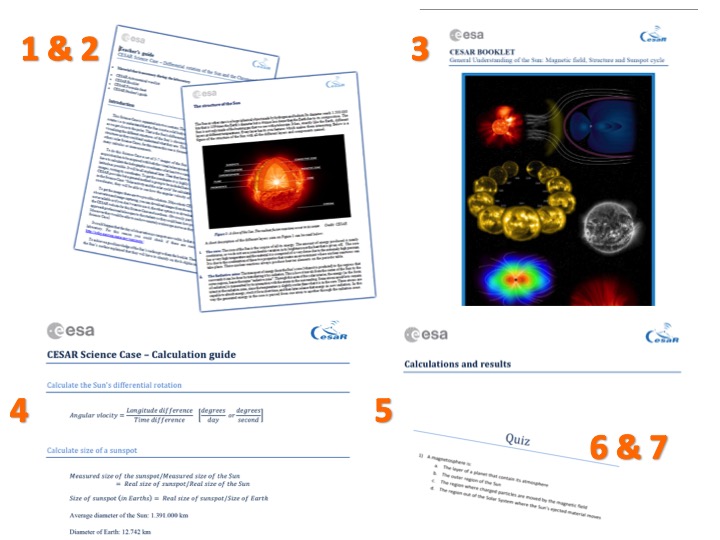 Together with the Science Cases, CESAR also provides with several booklets which can help students to get a better background and a better understanding of different topics.
Astronomical data collected by the CESAR Observatories ; software developed by the CESAR Team.