Today we have the first remote control demostration of the Robledo optical telescope from ESAC (European Space Astronomy Center) in Villafranca del Castillo near Madrid.
This telescope was installed last year in Robledo de Chavela in the Training and Visitor Center of NASA by MDSCC (Madrid Deep Space Communications Complex of NASA) team.
In the remote demostration from CESAR Control Room we move the telescope to diferent sources, receiving the weather station data (temperature, humidity, solar radiation, wind, etc.), looking the telescope movement with the internal webcam and the observatory with the external webcam, controling the focuser, the CCD camera of the telescope and all the external components.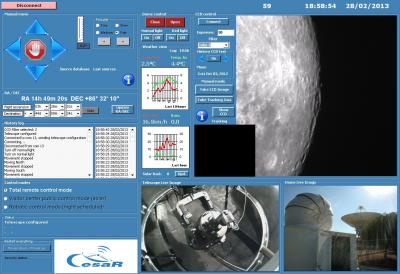 CESAR Robledo Observatory Control Software. CESAR
Everything is ready to make remote demostration to universities and high schools.
Now we have the remote control, but the real target is to make it a robotic observatory. In next months we will have it ready.